Florida Tarpon Fishing Charters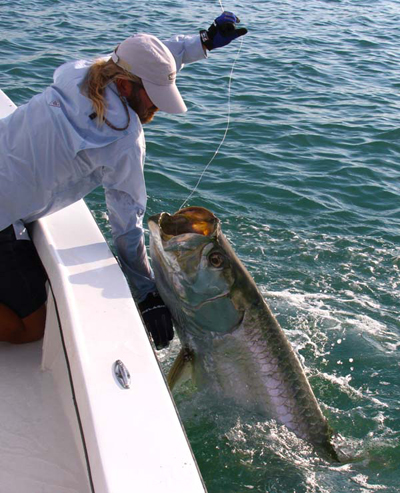 Fish the calm unspoiled waters of South Florida.  Boca Grande, Charlotte Harbor and the Florida Everglades are famous for the best tarpon fishing in the world.
Captain Mark Bennett, a full time fishing guide since 1992, has a lifetime of experience fishing for tarpon along the west coast of Florida.
There is no substitute for experience.
For over 26 years I have made a full time living as a fishing guide.  Specializing in light tackle and fly fishing for tarpon on the west coast of Florida.  Although I am probably best known for my tarpon fishing charters around the Boca Grande area where I live, I also fish for tarpon in the vast backcountry of the Florida Everglades and Florida Bay in the early spring and late fall months.  By following the migration I can effectively fish for tarpon 9 months a year during the peak of the season in each of the locations I fish.
I have two boats, a 24′ custom bay boat I use in the Boca Grande area and a Silver King flats skiff for the Everglades just to cover all of the bases.  I do private charters for 1-4 passengers.  All licenses and top notch tackle is provided.
Feel free to contact me with any questions.
If you are planning a trip to Florida in search of tarpon.  Give me a call or email.
I am always available to discuss your trip.
More Information and Reservations:
Capt. Mark Bennett
941-474-8900
(Do not send texts to this number, it is a land line.)

All major credit cards accepted

Florida Tarpon fishing charters

www.tarponsnook.com    Tarponphotos.com