Featured Magazine Articles
I have been featured in many publications over the years.  Some they featured my fishing techniques.  Some photos of me.  A lot of them used Jenni's photos.  Several of them just used Jenni's photos taken in my boat to make someone else look good…lol
Here are a few that I could find.  I wish I saved them all.
Sport Fishing Magazine-June 2012
This was a cool article Doug Olander wrote about a big shark that has tormented the tarpon of Boca Grande for years. This particular shark I have had a grudge against for decades.  The hammerhead shark eating a tarpon photo is one of Jenni's.
Sport Fishing Magazine-May 2010
#1 Boca Grande, Florida "The famed Pass and so much more!"
I was honored to be listed as the featured guide in the Boca Grande/Charlotte Harbor area by Sport Fishing Magazine in this article about the 14 top tarpon destinations in the world.
Florida Sportsman – September 2008
"The end of summer bite is particularly strong on Charlotte Harbor. This sprawling, 330 square mile Southwest Florida estuary is fed by three rivers and framed by seagrass beds and living oyster reefs."

"That's where Port Charlotte Photographer Jenni Bennett caught these spectacular images. Her husband Capt. Mark Bennett, is a busy guide, carving out a niche in quiet backwaters, miles and weeks beyond Boca Grande Pass."

Jeff Weakley, editor
Florida Sportsman-June 1998-"Kings of the Hill"
This is a real cool article about a day when John West and I fished a hill tide together.
Article and photos by Jon West
Florida Sportsman-June 2002-"Who is Joe Miller?"
This was another cool story by Jon West.  The centerfold photo was me holding a Boca Grande tarpon next to the boat.
Article and photos by Jon West.
Florida Sportsman-May 2006
In this issue they used several of Jenni's photos in this article about Lee County tarpon.
Saltwater Sportsman-February 2007
In this issue the centerfold photo, table of contents and several others were Jenni's.
Sport Fishing Magazine-April 2006
This issue had a nice sidebar segment on me about kite fishing for tarpon. They had never heard of anyone utilizing a kite for tarpon ever before.  To tell you the truth, when I started using the technique I never had either.
Texas Fish and Game Magazine-August 2009
Both of these photos, the cover and inside story, are ours.  The second one has become quite famous.  It is a favorite of photo thief's all over the internet…lol
Sport Fishing Magazine-February 2005
There was a great article in this issue about tarpon fishing in Nicaragua.  All of the tarpon photos were taken by Jenni. (in Charlotte Harbor of course!)
Saltwater Sportsman-June 2004-"Tarpon Express"
Sport Fishing Magazine-October 2004
Obviously, the tarpon photos are Jenni's.
Florida Sportsman-April 2007
This issue had lots of our photos, the cover and several inside.  The whole issue was dedicated to tarpon fishing.  Here are a few of the photos.
Florida Sportsman-June 2009
Sport Fishing Magazine-April 2002
This is one of Jenni's first cover shot's.  The money she got for it bought her first real professional Nikon camera.  A few days after this magazine came out she got a call from Scott Kerrigan (a.k.a. the Man when it comes to big game photography) to ask how she got this shot.  I thought that was cool.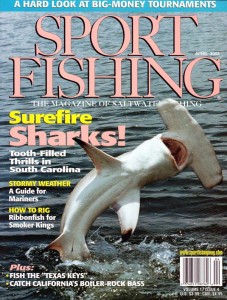 Florida Sportsman, April 2002.
This issue featured a centerfold shot of Jenni and I with a nice permit.
Photo by Earle Waters.
Sport Fishing Magazine-February 2003
This issue had a story about satellite tagging tarpon.
The photo of me with a tarpon boat side was taken by Jason Cannon.
Each one of these magazines below has a story that features one or more of our photos.
For Information and reservations:
Capt. Mark Bennett
(941) 474-8900

www.floridatarponsportfishing.com
www.tarponsportfishingcharters.com
Follow Us!!!